For the first Thinkathon to happen outside Berlin, 23 participants were split into 4 teams, to work on 3 challenges set by Lectra, DeFine and SmartX over an intense 2 days. Written by MAIRI HARE.
As part of the Innovation Roadshow at Techtextil & Texprocess in Frankfurt, the fourth edition of the Thinkathon design thinking workshop took place on the 13th and 14th May 2019, concluding with a wrap-up presentation during the Fashionsustain conference. Participants came from across Europe with expertise ranging from bioengineering to digital strategy – read on to find out what happened when these great minds came together.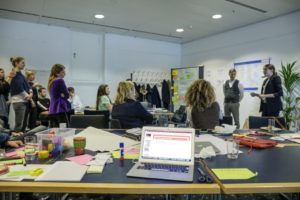 LECTRA: Fashion On Demand
How can Brands, Retailers and Manufacturers leverage Personalisation to create new, sustainable business opportunities?
• Lectra One app: producing what's in demand, on demand
An app that gamifies the design process, inviting customers to co-create designs in open source, which manufacturers and brands can then produce on demand. The prosumer designs products that are desired by the consumer therefore increasing their value and lifetime, while manufacturers gain a better understanding of the customer.
• Lectra Now ecosystem: professional and affordable access to online tools
A browser application with a 3D visualisation tool where designers can virtually sample personalised products for the customer, who then approves the design, confirms quantities and pays for the order. This ensures that the manufacturer gets paid upfront and only produces what is required. Sustainable efforts by all users are rewarded with "eco-coins" that reduce access costs to the platform.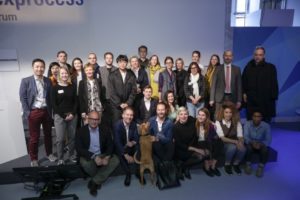 DeFINE: Fashion Tech Policy Lab
How can Europe be a leader at the intersection of Fashion and Technology?
Encourage future entrepreneurs to establish new business models within the existing framework of the fashion and technology industries in Europe, implementing the latest online tools to develop fast, intelligent and sustainable supply chains. Furthermore a European fashion-tech incubator should be set up to enable collaborations with international brands and fashion hubs.
SmartX: Scaling Smart Textiles
How to establish smart textiles manufacturing value chains in Europe?
Create a Europe-wide database of smart textile and component manufacturers to facilitate new business opportunities and inter-industry collaborations. Guidance, education and funding should also be offered to support the creation of smart textile products that focus more on customer needs.
A big thank you and congratulations to all the Thinkathon participants, coaches and challenge hosts!
All images: Messe Frankfurt/Thomas Fedra