DeFINE Fashion-Tech Bootcamp London, is the first bootcamp hosted by London College Fashion, University of the Arts London in collaboration with Fashion District to support the developments of pre-start-ups, start-ups and SMEs across Europe.  
DeFINE has been running for almost a year. During the three year project, we have been building a network of fashion-tech, business and investment communities. On 5th – 6th June, the first bootcamp in London was held where fashion-tech pre-start-ups, start-ups and SMEs from all over Europe attended lectures, workshops, mentoring sessions and networking activities.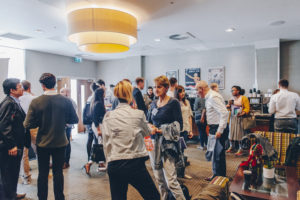 As part of the bootcamp, we brought together experts from successful, innovative companies such as Microsoft, Marks & Spencer and Farfetch to share their views on the transformative fashion and retail industry.
There were up to thirty energy-filled entrepreneurs who met in London last week for the very first DeFINE Fashion-Tech Bootcamp. The startups had been selected for two days of hard work in workshops, challenged by industry experts. Two of the startups that participated were Koppla AB, who are currently in the incubator process in Borås, as well as Wundies AB, that left the incubator two years ago.
Disrupt or be disrupted
Daniel Himsworth, Lead Founder Factory at Marks & Spencer was first out of the external speakers.
The bootcamp was held at the emerging fashion district of Stratford in East London, started and ended with industry expert speakers of various topics. First to present was Daniel Himsworth, Lead Founders Factory at Marks & Spencer – one of the UK's largest fashion retailer with up to 1,000 stores across the UK. Last year, Marks & Spencer started a five-year change program to shift revenues from store sales to online. In order to accomplish this, Daniel Himsworth has the task of finding new startups that can solve the technical challenges it entails.
– Our focus for the past year is entirely on becoming a "digital first" retail. To do this, we need to work faster, smarter and faster. It requires us to work as a startup; agile, fast and through collaborations. We have to disrupt or we will be disrupted, explained Daniel Himsworth.
To connect with startups, Marks & Spencer is a partner of Founders Factory; an ecosystem of entrepreneurs, corporate partners and investors, hosting incubator and accelerator programmes. Founders Factory help big companies find startups that can solve their challenges, and provide them with the resources they need.
– We are facing huge challenges in following consumer behavior. We know that we must digitize our stores, the physical ones that will remain and not least, online. We are looking for new technical solutions and new business models and is it the new companies – i.e. startups – that have the solutions.
Challenge business models
Business Model Canvas workshop
London College of Fashion hosted a workshop in Business Model Canvas. The startups that participated were challenged, among other things, to make a Business Model Action Plan to address and rate the challenges they are facing right now. From Koppla AB, which develops a modular system for outdoor clothing, Alexander Boström was in London to further develop the company's business model.
– I am proud and grateful to be one of the companies that were selected to be on this bootcamp. It has been both interesting and instructive, not least having received so many different experts who look at our business model from a different angle. What I mainly bring with me is how important it is to have a purpose with what we do, that the product brings a value. It is otherwise easy to become too product or technology focused, Alexander said afterwards.
Alexander also appreciated the speakers who were invited to talk about everything from financing and IP, to how the industry is changing and how the experts, value startups in their own organizational development.
– The retail and fashion industry is moving in a really exciting direction. Everyone knows it and no one denies it anymore. Large companies have also realized that it is the startup generation that will change and lead the development forward, and that boosts us entrepreneurs to continue fighting and developing in what we believe in.
In the Business Model Canvas workshop, where the participants documented their business model and then challenge it, Alexander realized that the work Koppla has done so far together with Simon Hjelte, Business Developer at Borås Incubator, has been very valuable.
– I have confirmed and validated that we have done all the right so far in terms of formulating a strategy for the company's development, based on our conditions. I also now realize that the coaching we receive at the incubator is of extremely high quality.
Alexander Boström, Koppla AB
Financing of fashion tech startups
As part of the DeFINE team, Thierry Baujard, Director of Media Deals in Berlin talked about financing opportunities for fashion tech startups. In essence, there are three things that investors and business angels look at before they possibly invest in a startup; firstly, it requires a team that can deliver and which investors can work with to develop the company. The idea i.e. the product or service – must be innovative, have a sound financial business model and be scalable.
– The last thing that determines whether you get funding for your startup is often that the financing plan is well thought out and planned and that it fits the investor's values, portfolio and exit strategy. It is here that incubators and other business development partners can make a big difference in making companies investment ready, Thierry emphasized.
Thierry Baujard from Media Deals talked about financing opportunities for fashion tech startups
Valuable Networking
One to one bitesize mentoring sessions  
The second startup company from Borås was Wundies AB, which underwent the incubator's process 2015–2017. Wundies solves men and women's uncomfortable problem with incontinence through smart and functional underwear. The built-in protection, with several technical textiles, absorbs the liquid and keeps the wearer dry and safe. Wundies is owned and operated by Lotta Williams who applied for the bootcamp in London mainly to network and get advice from the competent collection of industry professionals and expertise in place.
– There have been two very educational days in many ways. I'm here for several reasons. Partly to expand my network, both by meeting other startups and industry experts in relevant areas that I otherwise would not have come into contact with. Partly to reach out broader with product awareness in other markets and find new sales channels, but also to pay attention to the environmentally sustainable solution Wundies is too many women and men with incontinence problems. When others hear about the product, they think it is revolutionary. That I also get to work with my business model in different workshops has a high added value, so it's great to have got the opportunity to be here, Lotta said.
Wundies is now in a development phase, both with product development, new markets and new collaborations. Sales increased significantly last year, with the main focus being on exports to the German market. Wundies is now investing in developing the webshop and has already stepped up the marketing to reach an even wider market, as the problem with incontinence is global. Increased brand awareness and easier accessibility are the keys. Recently, it also became clear that Smart Textiles finances the product development of Wundies 2.0.
– It's awesome. Running a startup is one of the toughest things one can do. It is important to be sustainable and to make use of the support that exists. The support I have received from both the incubator, Smart Textiles and now the DeFINE project is invaluable.
Lotta Williams, Wundies AB, in a mentor session with Fredrik Timour, Swedish Fashion Council
The disruptive fashion and retail industry
Maruschka Loubser, Director of Global Brand Marketing Partnerships, Microsoft talked about how the big tech corporations can help transform the fashion and retail industry. The technical solutions that Microsoft offers can be applied to smaller players in the industry, and since there is such a great growth potential in the fashion industry, they want to contribute. Maruschka said that the future of retail is a seamless and connected, digitized experience and that we will use technology to enhance the customer experience.
– Brands must have a more efficient system for creating customer loyalty, which in turn leads to more sales. They must dare to reward the best customers. Retailers also have to challenge themselves and realize ideas through technology that enables the best possible customer experience, Maruschka said.
Another person who presented trends in the transformative fashion world was Alice Gras from the DeFINE partner IFM – Institut Français de la Mode. What is now emerging, and which everyone who runs startups has to relate to, is that products and services must be "over-personalized", offers must be fully automated and the logistics must work.
– What is also clear is that it has almost become mainstream with sustainability, both socially and economically, in business models and materials, and the entire production chain must be transparent, Alice said.
David Grunwald, Vice President, Innovation at Farfetch, who presented the closing keynote at DeFINE Fashion-Tech Bootcamp London, confirmed that it is always about the customer and openness at all levels. He argued that their luxury fashion brand trading venue is 90% backend, i.e. logistics, freight and the like, but that all technology applied is to make the customer experience as good as possible.
– Although we are a global fashion tech platform, everything we do must align with our love for fashion.
David Grunwald from Farfetch completed the bootcamp on stage
Long-term initiative
DeFINE runs until 2021, project partners have mapped an industry-specific network of European actors in tech, fashion, textile, business support organisations and financing. The long-term goal is an interdisciplinary merger between fashion and technology. Supporting startups through the mentoring programme to reach out more easily and faster with new products and services on the market.