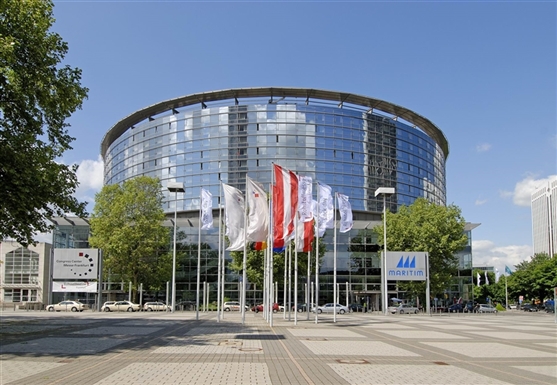 Fashion-Tech Info Day – Frankfurt
THIS EVENT HAS NOW PASSED
As part of the DeFINE Fashion-Tech Info Day series, DeFINE consortium partner, Euratex will be leading Info Day – Frankfurt in conjunction with Techtextil-Texprocess Fair on Monday 13 May – Tuesday 14 May, 2019; with a range of workshops, talks, discussions and sharing ideas.
If you are a start-up or SME working within the fashion supply chain or developing new technologies, or an incubator supporting these businesses, we invite you to join us to meet the DeFINE community and contribute to the development of the European Fashion-tech Innovation network.
Who Should Attend
Fashion-Tech Info Days are designed for start-ups, SMEs, as well as students, fashion and technology professionals. Accelerators, hubs and clusters would also benefit from attending the event.
How to register
Registrations are now closed.
Accommodation
Attendees are responsible for booking their own accommodation.
Contact Us
If you have any questions about attending an Fashion-Tech Info Day please email contact@define-network.eu.
Thinkathon Challenge
Lectra, DeFINE and SmartX are the Challenge Hosts for the upcoming Thinkathon collaborative ideas workshop on the 13th and 14th May 2019 in Frankfurt am Main during Techtextil & Texprocess.
For this edition of the Thinkathon, Challenge Hosts were selected to fit with the technical theme of the trade fairs, and Participants will be split into 4 teams to find innovative solutions to 3 industry challenges over an intense 2 day thought marathon.
Read on to find out more about each Challenge and Host as well as how to get your ticket to attend the Thinkathon sum-up presentation during the Fashionsustain conference.
LECTRA: Fashion On Demand
How can Brands, Retailers and Manufacturers leverage Personalisation to create new, sustainable business opportunities?
Lectra is a technology company specialising in CAD software and CAM cutting systems. Their latest pioneering Industry 4.0 solution, Fashion On Demand, automates the entire personalisation process, from product development to final cutting stages, for greater efficiency, profitability and individuality.
Personalisation is set to become the paradigm across all industries, putting the customer at the centre of the story. Custom products match supply with demand, eliminating overstock and markdowns, and can therefore help increase profit margins, as well as improve cash flow and transparency. Moving away from mass production also opens up new possibilities for collaboration, short runs and local production.
How can brands, retailers and manufacturers adopt/adapt to personalisation and on-demand production? What products and services should they offer? How can they work together to provide the ultimate customer experience and offer personalisation at scale?
DeFINE: Fashion Tech Policy Lab
How can Europe be a leader at the intersection of Fashion and Technology?
DeFINE is a three year collaborative project co-funded by the European Commission's COSME programme, running from 2018 to 2021. The project aims to support the fusion of cutting-edge technologies and innovation in the European fashion and design industries.
Europe is a global leader in the fashion and luxury markets, however new technologies and digitally-enabled business models are disrupting these industries. There is a trend towards the digitisation of consumer goods and services, and FashionTech may move a significant share of the added value to the digital enablers and gatekeepers.
How can Europe's strengths in fashion, creativity and technological innovation be brought together to successfully bring the fashion sector into the digital age? How can we nurture the European startup community and connect it with the fashion sector? What skills do young professionals and startups need to succeed in FashionTech?
SmartX: Scaling Smart Textiles
How to establish smart textiles manufacturing value chains in Europe?
Launching this year, SmartX is a three year collaborative project co-funded by the European Commission's HORIZON 2020 programme. Made up of 13 partners from 7 EU countries, the project will run a European Smart Textiles Accelerator programme funding up to 40 innovation projects, targeted at developing a European manufacturing value chain for smart textiles.
Smart textiles have been heralded as the most exciting innovation in textiles for decades, but have yet to make a breakthrough on a large scale. A key limiting factor is the capacity to manufacture quality, reliable and affordable smart textile materials and products on an industrial scale. Europe has many niche, innovative manufacturers who could serve as a starting point to build viable industrial value chains for smart textile production across the EU.
What can be done to speed up the emergence of these European value chains and what is slowing it down? How can a stronger market pull be generated? What skills do designers, developers and producers need to create smart textile products, and are the right courses being offered in schools and universities?
Thinkathon Presentation @ Fashionsustain
Tuesday 14th May, 13:45 – 14:00; Forum, Hall 4 Messe Frankfurt
Get a glimpse of how the teams tackle the above Challenges by attending the Fashionsustain conference on Tuesday 14th May from 11:00 – 14:00 as part of the INNOVATION ROADSHOW during Techtextil & Texprocess – get your ticket to access both trade fairs and the conference.
Hourly Schedule
Thinkathon Challenges - Monday 13th May, 2019
AM

-

PM

Thinkathon Challenges
Tuesday 14th May, 2019
3pm

-

4pm

DeFINE project presentation

Located at Hall 3C, West in the conference room "Aspekt" of Messe Frankfurt.